This 4-Ingredient Strawberry Rhubarb Chia Jam delivers all of the spring fruit flavour without all of the added sugar. Easy to make and freezer-friendly too!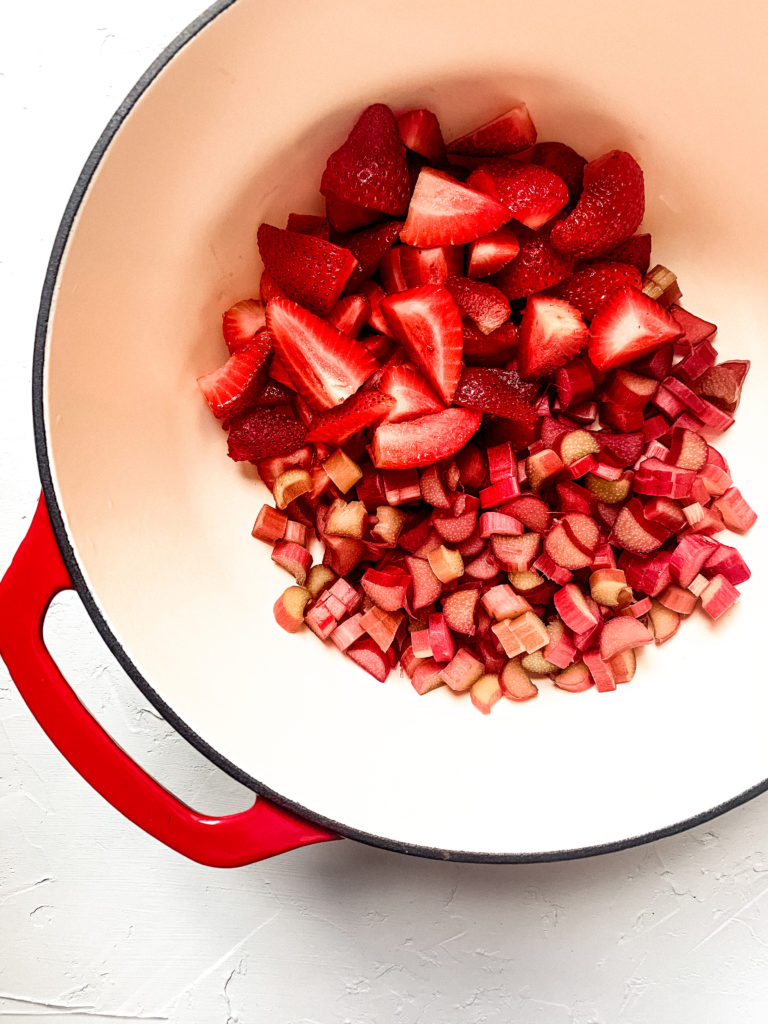 Evey spring I cannot wait to get my hands on some fresh rhubarb. As a kid, I remember chomping on the tart red stalks straight out of my grandma's garden, dipped in sparkling white sugar. While I haven't eat rhubarb like this in years, most of my favourite rhubarb recipes involve turning it into a sweet dessert. And as the rhubarb season doesn't last nearly long enough in my opinion, making it into jam is the perfect way to ensure I can enjoy it all year long.
Because rhubarb is quite bitter on its own, this recipe does require some sweetener; however, not nearly as much as a typical jam! Instead of gelatin and sugar, chia seeds are the main jelling ingredient. While this doesn't truly preserve the fruit for as long as regular jam, this recipe is easy enough to make a new batch as soon as you finish your last! And did I mention, it only involves 4 ingredients (2 of which are strawberries and rhubarb) and about 30 minutes to make? What could be better!
What are chia seeds?
Chia seeds are tiny black seeds that are native to Mexico and Guatemala. They are highly nutritious, containing significant amounts of essential minerals, healthy omega-3 fatty acids and fiber. In fact, more than 80% of the carbohydrates in chia seeds are fiber. Only 2 tablespoons of chia contains about 11 grams – that's 1/4 to 1/3 of our daily fiber needs, for both men and women respectively. Chia's fiber content is also what allows it to absorb 10-12 times its own weight in liquid, which gives it the gelling properties that are essential for making this jam!
To grind or not to grind?
What sets this recipe apart from the rest is that it uses ground chia seeds – this helps it achieve a texture that is closer to regular jam! I always find that whole chia seeds give jam a "bubbly texture" – similar to raspberry jam. By finely grinding the chia seeds before adding them to the fruit, you can achieve a more smooth texture (although not perfect!). As this step isn't essential to making a tasty jam, it's up to you if you want to grind the seeds first or not!
Strawberry Rhubarb Chia Jam Ingredients:
To make your jam, all you'll need is 4 ingredients:
Rhubarb: the star of the show – remove the leaves and chop into small pieces.
Strawberries: the sweeter the berries, the less sweetener you'll need to add.
Chia seeds: finely ground (or not, up to you!)
Sweetener: granulated sugar, brown sugar, maple syrup or any other sweetener of choice will work. Add 1-2 tablespoons to taste, depending on the sweetness of your strawberries.
How to use Strawberry Chia Jam
Here are some of my favourite ways to use this chia jam:
slathered on a thick slice of buttered toast
swirled into plain yogurt or oatmeal
as a topping for vanilla ice cream
What's your favourite way to use chia jam? Let me know in the comments below! x
Looking for more?
Check back here for my latest recipes! And don't forget to follow on Instagram so you don't miss a thing!
Print Recipe
Strawberry Rhubarb Chia Jam
Ingredients
2

cups

strawberries,

chopped

2

cups

rhubarb stalks,

chopped

¼

cup

water

2

tablespoons

chia seeds

1-2

tablespoons

sweetener,

sugar, maple syrup etc.
Instructions
Cook the fruit. In a large sauce pan, combine the strawberries, rhubarb and water. Cook over medium heat until the fruit is soft, about 5-10 minutes. Mash the fruit with the back of a spoon until you reach your desired texture of jam. Stir in 1-2 tablespoons of sweetener, according to how sweet your fruit is.

Grind the chia. While the fruit is softening, grind the chia seeds in a small blender or coffee grinder until fine.

Thicken your jam. Stir the ground chia seeds into the softened fruit. Cook over low heat for another 5 minutes. The jam will continue to thicken as it cools. Transfer to a jar or resealable containe and store in the fridge.
Notes
Your chia jam will keep in the fridge for 1-2 weeks, or freeze for later!