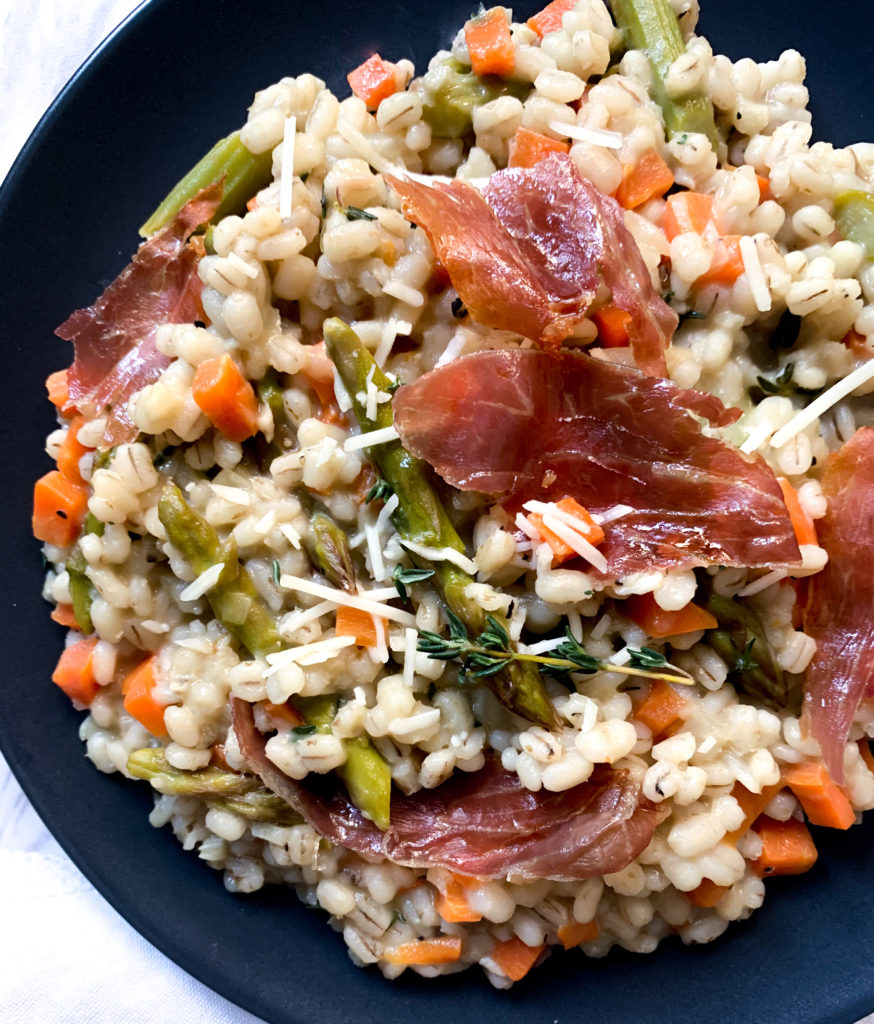 Spring is in the air! This Barley Risotto with Asparagus and Crispy Prosciutto is fresh and colorful, while hearty and comforting enough for those March days that feel more like January.
The Deets on Barley
While traditional risotto recipes typically use rice, barley gives this dish a fun twist. Barley is a nutty, slightly chewy – and in my opinion – highly underrated grain. It's important to note though, that there are two different types of barley that you can buy:
Hulled Barley: still has its bran layer intact, giving it a light brown color and chewy texture. This also makes hulled barley a whole grain and gives it more nutrients than pearl barley.
Pearl Barley: is polished to remove some or most of its bran layer. It cooks quicker and is slightly less chewy than hulled barley. As a result, pearl barley is technically a refined grain – HOWEVER – it is still healthier than most other refined grains. This is because the whole barley kernel contains fiber, not just the bran like many other grains.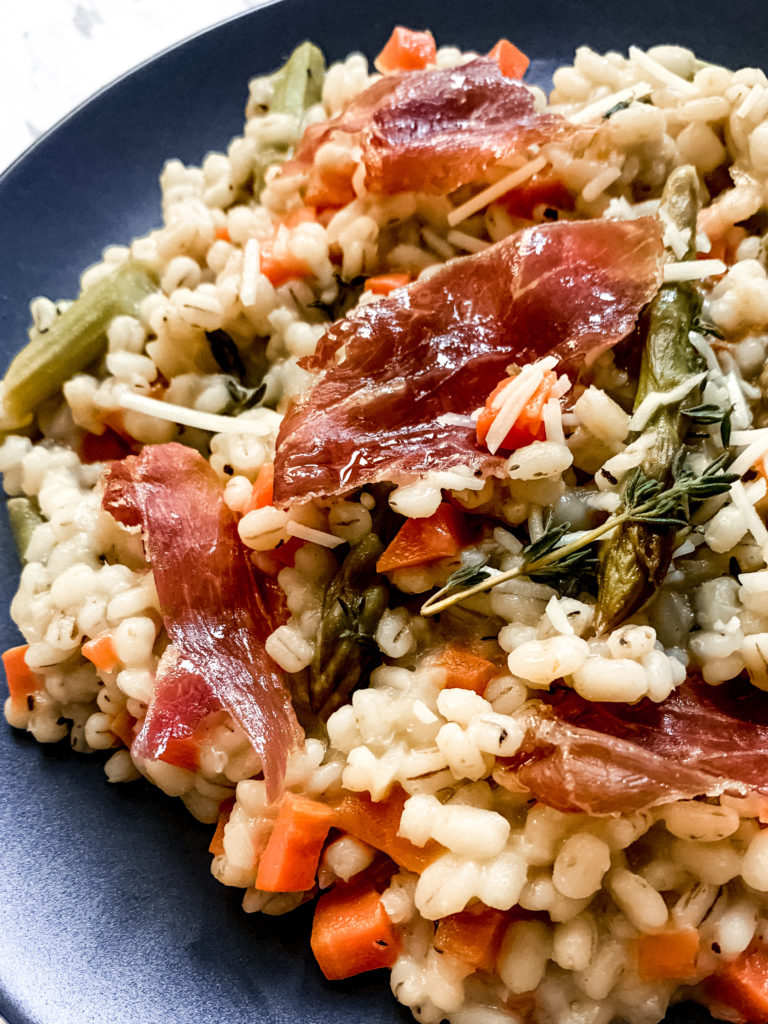 Health Benefits of Barley
One of the key nutritional features of barley is that it contains beta-glucans – the same type of fiber as in oats! Beta-glucans lower the glycemic index of carbohydrate-containing foods: meaning that the carbs in barley are digested slowly and won't spike blood sugar. Barley's high fiber content can also help reduce cholesterol levels. These two factors make barley a nutritious food that can reduce the risk for diabetes and heart disease.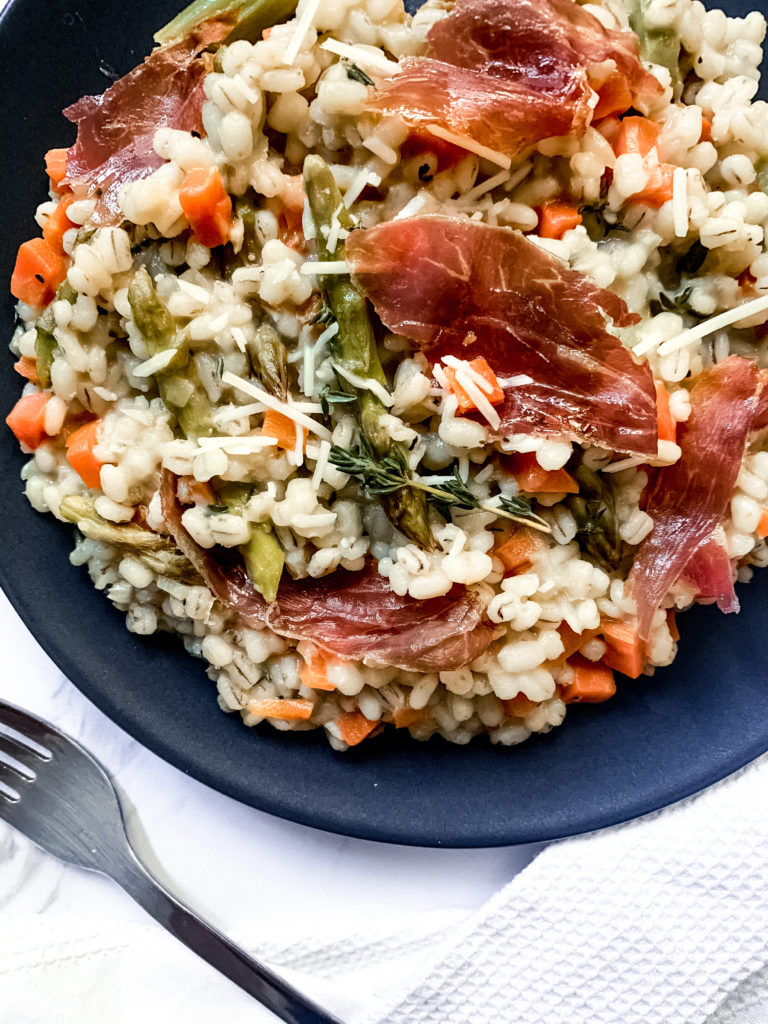 Making the Risotto
Although this dish may have a longer cooking time, its pretty simple to put together:
Saute the onions, garlic and barley until they're toasty and fragrant
Add a splash of white wine for sizzle and the veggies for health
Stir in small increments of broth at a time. Normally you'd stir risotto constantly while it cooks, but I find that stirring for a minute or two per broth addition is good enough and will save your arm
Stir in some salty cheese, fresh herbs and top with crispy bits of prosciutto
And that's it! Serves two people as a main course, or four as the perfect side dish for a spring get-together celebration.
Enjoy! xx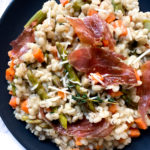 Print Recipe
Barley Risotto with Asparagus and Crispy Prosciutto
A springy barley risotto that's also hearty and comforting. The perfect dish for those early spring days that still feel like winter.
Ingredients
1

tablespoon

olive oil

1

small

yellow onion,

finely chopped

4

cloves

garlic,

minced

1/2

cup

pearl barley

1/4

cup

white wine

4

cups

chicken broth,

low-sodium

1

medium

carrot,

diced

1

cup

asparagus,

chopped

1/2

cup

Parmesan cheese,

grated

1

teaspoon

fresh thyme leaves
salt & pepper,

to taste

4-6

slices

prosciutto
Instructions
For the Risotto
Heat the olive oil over medium heat. Add the finely chopped onion and sauté until soft and starting to brown. Add the barley and minced garlic and cook for another minute, until the barley starts to smell fragrant and nutty.

Stir in the white wine until it absorbs into the barley. Add the diced carrots.

Add 1/2 cup of broth to the pan at a time, stirring frequently(ish) and letting the risotto absorb the broth before adding another half cup. Add the chopped asparagus when you have 1 cup of broth remaining.

When the broth is completely absorbed and the barley is tender, stir in the Parmesan and thyme. Add salt and pepper to taste.
For the Crispy Prosciutto
Lay slices of prosciutto on a parchment lined baking sheet. Broil on high for 3-4 minutes, watching closely. Let cool slightly then crumble on top of each bowl of risotto!
Notes
Dry white wine may work better than sweet. Use broth in place of wine, if desired.
At medium-high heat it should take about 5 minutes for 1/2 cup of broth to absorb.
The risotto will thicken when cooled and may require an extra splash of water or broth when reheating.
This recipe will serve 2 people as a main dish or 4 people as a side.