This Easy Garlic Scape and Basil Pesto is the ultimate recipe for garlic lovers everywhere. Toss with pasta or spoon on veggies – however you eat it, have your breath mint ready!
Nothing says summer like the vibrant flavours and color of fresh pesto. But did you know that you can make pesto out of wayyy more than just basil? In today's recipe, garlic scapes are the star of the show!
What are Garlic Scapes?
Garlic scapes are the tender green stems that grow from the tops of garlic bulbs. In late spring or early summer, farmers often snip off these curly green shoots so the garlic plant can direct its nutrients to producing its bulb.
When eaten raw, these scapes have a potent garlic flavour that becomes sweeter and more mild with cooking. Popular ways of eating them include roasting or steaming for a simple side dish, as a vegetable in a stir fry or soup, or as a replacement for garlic in recipes.
Another other great way to use these flavourful shoots is to blend them into a pesto. If you're a garlic lover like me and believe it's an ingredient that should always be "measured with the heart" (AKA double or triple the amount in the recipe), then this pesto is definitely for you!
Ingredients for Garlic Scape & Basil Pesto:
Here's what you'll need for this quick and easy pesto:
garlic scapes: the star of the show.
basil leaves: you could also use another fresh herb or leafy green, like parsley or spinach.
Parmesan cheese: for a bit of salty creaminess.
walnuts: instead of the traditional (and expensive!!) pine nuts, this recipe uses walnuts. You could also use other nuts or seeds, like almonds or pepitas, or skip them entirely for a nut-free pesto!
lemon juice: for some acidity and brightness.
olive oil: emulsifies all of the ingredients together to make a smooth pesto. Olive oil is also a good source of healthy fats and antioxidants.
How to Make Garlic Scape & Basil Pesto
This one comes together really quickly. Throw everything but the olive oil into a food processor or high-powered blender – in a pinch, an immersion blender will also do the trick – and pulse until the ingredients are finely chopped. While your food processor or blender is still running, slowly pour in the olive oil until your pesto is smooth and creamy. And voila! Adjust your seasonings to taste and you've got pesto!
Storage Instructions:
If you plan on using your pesto within a couple days, it will keep well in the refrigerator. To keep your pesto longer it is best to freeze it. For easy freezing, portion pesto into a clean ice cube tray and transfer the cubes to a resealable bag when fully frozen. Now whenever you need pesto, simply thaw a few cubes at a time or toss directly into soups or sauces!
How to use Garlic Scape & Basil Pesto:
This pesto is super versatile and delicious. Here are a few ideas for using it to get you started:
in place of regular pesto for dishes that need an extra punch of garlic
tossed with warm pasta or as a dressing for pasta salad
as a base for pizza instead of a traditional tomato sauce
in potato salad, as an alternative to a typical creamy dressing
Whichever way you choose to use this pesto, get ready for some serious flavour and have a breath mint handy. Enjoy!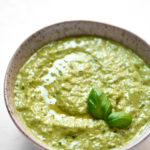 Print Recipe
Easy Garlic Scape & Basil Pesto
Ingredients
1

cup

garlic scapes

,

roughly chopped

½

cup

basil leaves

,

tightly packed

½

cup

Parmesan cheese

¼

cup

walnuts

,

roughly chopped

½

tsp

salt

juice of one lemon

¾

cup

extra virgin olive oil
Instructions
In a food processor or high powered blender, combine the chopped garlic scapes, basil leaves, Parmesan cheese, chopped walnuts, lemon juice and salt. Pulse until mostly smooth.

While the food processor or blender is running, slowly drizzle in the olive oil to emuslify all of the ingredients. Scrape down the sides and continue to blend, if needed.
Storage Instructions:
Fresh pesto will keep well in the fridge for a few days. For easy long-term storage, portion pesto into a clean ice cube tray and freeze. Transfer to a resealable bag when fully frozen.
Looking for more?
Check back here for my latest recipes! And don't forget to follow along on Instagram so you don't miss a thing!