Lentils for breakfast? Trust me on this one, okay! This maple cinnamon lentil granola is golden and nutty, with the perfect amount of sweetness from dried cranberries and maple syrup.
Topping a bowl of Greek yogurt and fresh berries, it's an easy breakfast that will fuel your whole morning. Or if you're like me, it tastes pretty good thrown straight down the hatch anytime of the day.
So what exactly are lentils?
Along with chickpeas, dried peas and other dried beans, lentils belong to a group of legumes called "pulses". Technically, pulses are the dried edible seeds found inside legume pods!
If you're into history, you might like to learn that lentil crops were actually one of the first domesticated crops. They were also a dietary staple of the ancient Egyptians and Romans! Nowadays, Canada is the world's top producer and exporter of lentils to other countries around the globe.
Why I love lentils:
They're nutritious!
There's a reason why health organizations highly recommend including lentils – or other pulses – in your regular diet.
Lentils are high in protein, fiber, iron, potassium and many other essential nutrients. One cup of cooked lentils boasts 24g of protein and 64% of your daily fiber needs!
Lentils are low in saturated fat and sodium.
As a result, evidence shows that pulses can help control blood sugar, lower blood pressure and reduce cholesterol, which can decrease your risk for chronic conditions like diabetes or heart disease.
Lentils are also naturally gluten-free, can help you feel full longer, and help manage your appetite and weight.
They're sustainable!
Did you know that lentils have a negative carbon footprint??
They only require about 1/10th the amount of water as other plants, they make their own fertilizer, and improve soil health for future crops! These key features of lentils help farmers reduce their impact on the environment, while still producing food for our growing global population – amazing right!
They're versatile!
Lentils have a mild, earthy and nutty flavour that works well in a variety of recipes. You can bake them into granola, throw them into bolognese, grill up some lentils burgers or even add them to muffins. The options are literally endless.
They're cheap!
Like really cheap. At just $0.10 per serving, lentils are an inexpensive plant-protein alternative to animal-based proteins like chicken ($0.63 per serving), pork ($0.73 per serving) or beef ($1.49 per serving). Shout-out to all the other students on a budget!
Have I convinced you yet?
Obviously, I think lentils are fab. And let's be real – you probably panic bought a couple cans last spring that haven't seen the light of day since (no judgement). If you're still on the fence, this maple cinnamon lentil granola is a good place to start. I promise, no bean taste – just sweet, crunchy, cinnamon-y goodness.
Happy munching xx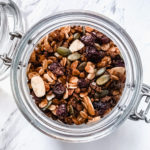 Print Recipe
Maple Cinnamon Lentil Granola
This is NOT your average granola! Roasted lentils give this recipe an extra boost of protein and fiber to keep you full all morning. It's perfectly nutty and not-too-sweet!
Ingredients
Dry Ingredients
1/2

cup

dried brown lentils

1

cup

large flake oats

1/3

cup

pumpkin seeds

1/3

cup

sliced almonds

1/2

cup

dried cranberries
Wet Ingredients
1

egg white

1/4

cup

maple syrup

1/4

cup

canola oil

1

teaspoon

vanilla extract

1/2

teaspoon

ground cinnamon

1/2

teaspoon

salt
Instructions
Cook the Lentils. Combine 1/2 cup of dried brown lentils and 1½ cups of water in a pot and bring to a boil. Reduce heat to medium low, cover and simmer for 15-20 minutes until lentils are tender and most of the water has been absorbed. Drain any remaining water if necessary.

Roast the Lentils. Once cooked, spread the lentils on a lined baking sheet into an even layer. Bake at 400°F for 5 minutes – until lentils are dry.

Prep the Wet Ingredients. While the lentils are roasting, whisk together 1 egg white, 1/4 cup canola oil, 1/4 cup maple syrup, 1 tsp vanilla extract, 1/2 tsp cinnamon and 1/2 tsp salt.

Put It All Together. To the baking sheet with roasted lentils, add 1 cup large flake oats, 1/3 cup sliced almonds and 1/3 cup pumpkin seeds. Drizzle over the wet ingredients and mix the granola thoroughly, until no dry pieces remain. Spread into an even layer on the baking sheet.

Bake the Lentil Granola. Turn your oven down to 300°F. Bake the granola for a total of 45 minutes, stirring every 15 minutes, until it is nicely browed in color.

Add the Cranberries. After 45 minutes, take out your granola and sprinkle on 1/2 cup dried cranberries. Stir to incorporate, then let granola completely cool before storing.

Enjoy!
Notes
Feel free to swap in your favourite nut, seed and dried fruit combinations – just be sure to keep the ratio of dry to wet ingredients the same!