This beet salad with citrus dressing makes a delicious summer side dish. Sweet and earthy roasted beets are tossed with a simple orange-kissed dressing and topped with creamy goat cheese, crunchy walnuts and garden-fresh dill.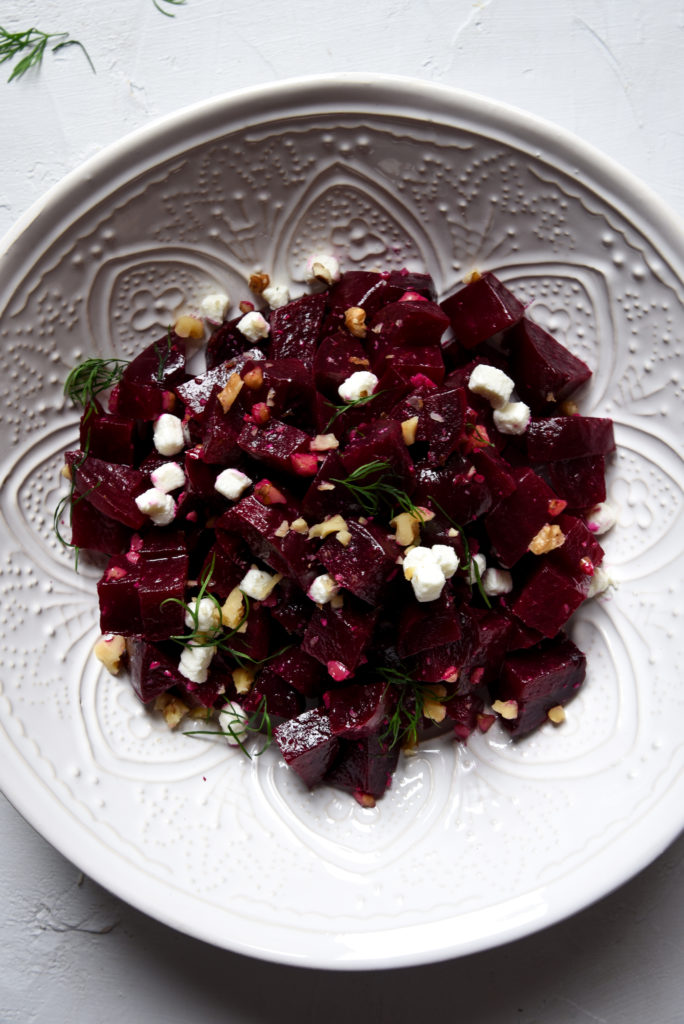 Across the Canadian provinces, beets come into season in early June and remain plentiful well into the fall. While many of my favourite beet dishes are best fit for cooler days (like borscht!), this recipe is a great side for summer barbecues and potlucks.
Not only are red beets gorgeous to look at, but when roasted they have a sweet earthy flavour that pairs perfectly with a light citrus dressing. Topped with crumbles of creamy goat cheese, crunchy walnuts and fresh dill, this salad is full of texture and flavour, while still allowing the beets to shine.
Try this salad once and you'll come back to it time and time again!
Summer Beet Salad with Simple Citrus Dressing Ingredients
Here's what you'll need to make this recipe:
Beets: I've used regular red, but you could also use golden beets or a mix of the two for an especially beautiful dish. Fun fact: golden beets are thought to have a smoother texture and sweeter flavour than red beets!
Walnuts: give a nice crunchy texture and nutty taste. Pistachios would also work well.
Goat cheese: tangy and creamy, goat cheese pairs perfectly with the sweet earthiness of the beets. If you're not a fan, feta cheese would be a good substitution.
Fresh dill: beets and dill are a classic combo. As a garnish, the dill adds a nice pop of green.
Olive oil: for roasting & the dressing
Apple cider vinegar: adds some acidity and brightness.
Orange juice: for a subtle but noticeable citrus note.
Sugar: just a half teaspoon to balance out the dressing & complement the sweetness of the roasted beets.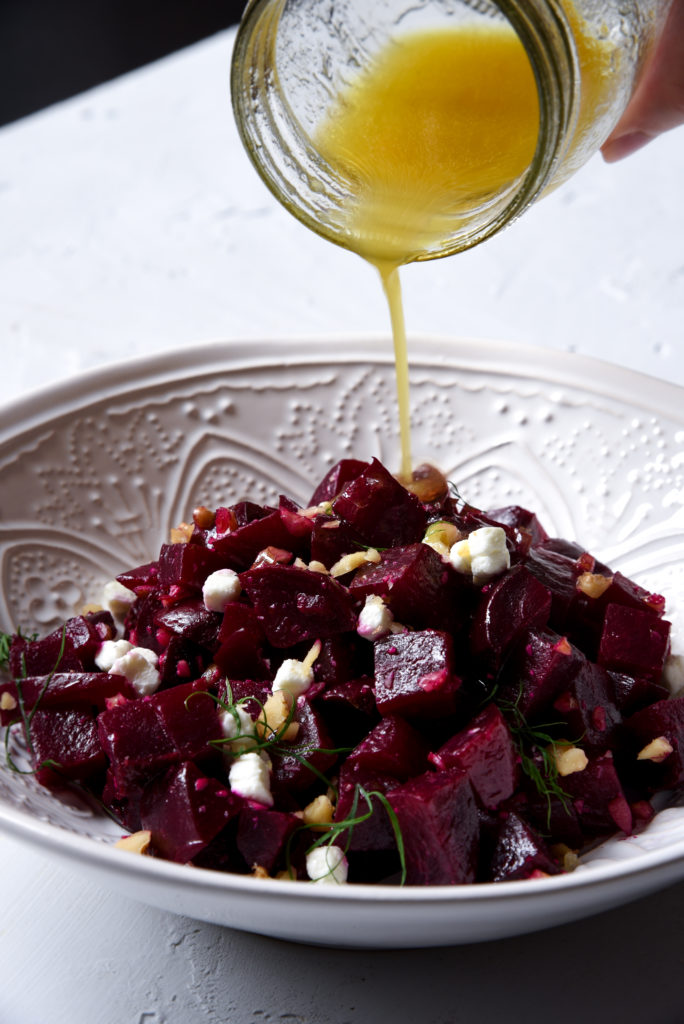 How Do I Roast Beets?
Follow these simple steps for perfectly roasted beets, every time (and without staining your whole kitchen pink!):
Preheat your oven to 400F. Carefully trim the stalks off of your beets, leaving just the root. Do not peel the beets. It's much easier and wayyy less messy to peel them after cooking, I promise!!
Place each beet on a small piece of tinfoil. Drizzle with a bit of olive oil and enclose the beets in the foil. Place on a baking sheet or in an oven-safe baking dish.
Bake the beets for 45-60 minutes, depending on the size of your beets. You'll know when they are done when a knife easily pierces through the center of the beet. Partially unwrap each beet from the foil to allow them to cool.
When cool enough to handle, use your hands to remove the peel from the beets. The skins should easily slide off. Note: to avoid staining your hands, wear gloves or use a paper towel! Rinse any cutting boards and wipe up any splatter immediately so the juice doesn't stain your surfaces.
And that's it! You are now a master beet roaster. Use as desired in your favourite beet recipes.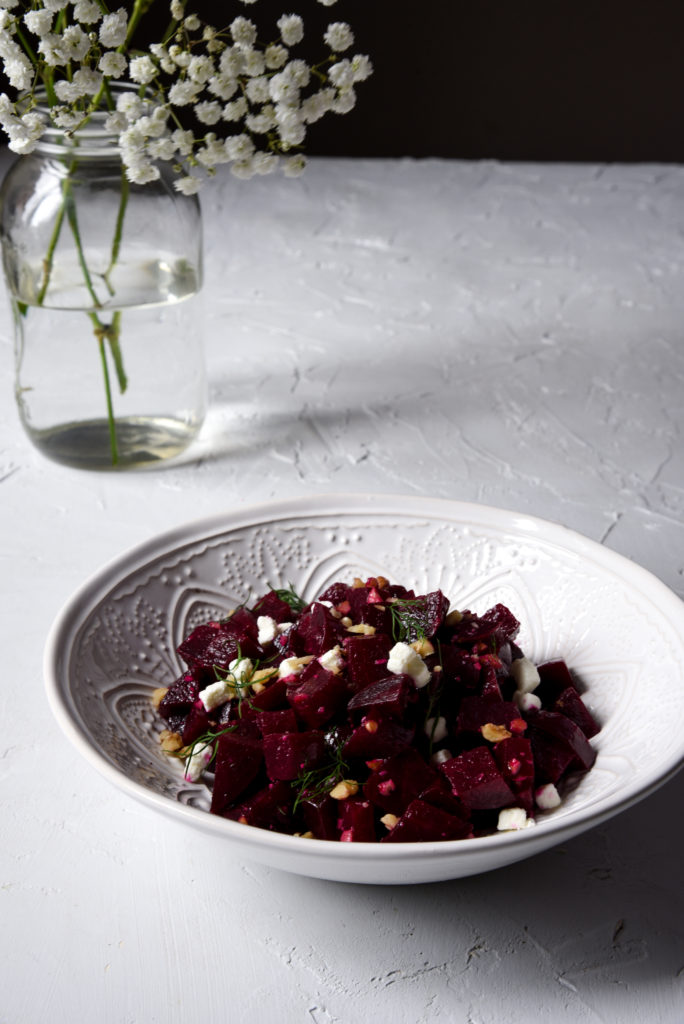 Tips for serving this Summer Beet Salad with Simple Citrus Dressing:
save the goat cheese and half of the walnuts for sprinkling on top right before serving. This helps to prevent the beet juice from staining everything pink and to retain the crunchy texture of the walnuts. Top with fresh dill for nice presentation!
serve while the beets are still slightly warm, or chill the salad in the refrigerator for later. This dish is delicious either way!
serve alongside a grilled protein and a green salad for a fresh summer meal. I would also highly recommend rounding off the meal with some crusty bread to soak up any leftover juices! Enjoy!
Looking for more?
Check back here for my latest recipes! And don't forget to follow along on Instagram so you don't miss a thing!
Print Recipe
Summer Beet Salad with Simple Citrus Dressing
This Summer Beet Salad with Simple Citrus Dressing makes a delicious side for all your favourite entrees. Great for barbecues and potlucks!
Ingredients
4

medium beets

olive oil

,

for roasting

1/4

cup

walnuts

,

finely chopped

1/4

cup

goat cheese

,

crumbled

1

tablespoon

olive oil

1

tablespoon

apple cider vinegar

1

tablespoon

orange juice

1/2

teaspoon

sugar

1/4

teaspoon

salt

fresh dill

,

roughly chopped
Instructions
Roast the beets. Preheat your oven to 400°F. Remove the stems and with the peel still on, drizzle each beet with olive oil and wrap in tinfoil. Place the wrapped beets on a baking sheet or in an oven-safe dish. Bake for 45-60 minutes, depending on the size of your beets. A knife should easily pierce through the center of the beet when fully cooked. When finished in the oven, unwrap the beets to cool.

Make the dressing: while the beets are roasting, combine the olive oil, orange juice, apple cider vinegar, sugar and salt in a small jar. Shake to combine. Set aside.

Peel & chop the beets: when the beets are cool to the touch, remove the peels using your fingers. They skins should easily slide off. (Note: use a paper towel or gloves to avoid red-stained hands!) Chop the beets into bite-sized pieces and place into a medium-sized mixing bowl.

Put it all together: to the beets, add the dressing and half of the chopped walnuts. Gently stir to combine. Carefully spoon the dressed beets onto your serving dish. Top with the rest of the walnuts, goat cheese and fresh dill. Enjoy!
Notes
Avoid mixing the goat cheese into the salad to keep it bright white! If you're making this salad to eat at a later time, don't add the goat cheese until right before serving.