These soft and chewy Sweet Molasses Dinner Rolls are made with 100% whole wheat flour and lightly sweetened with molasses and cocoa powder. Slather with homemade herb butter and enjoy!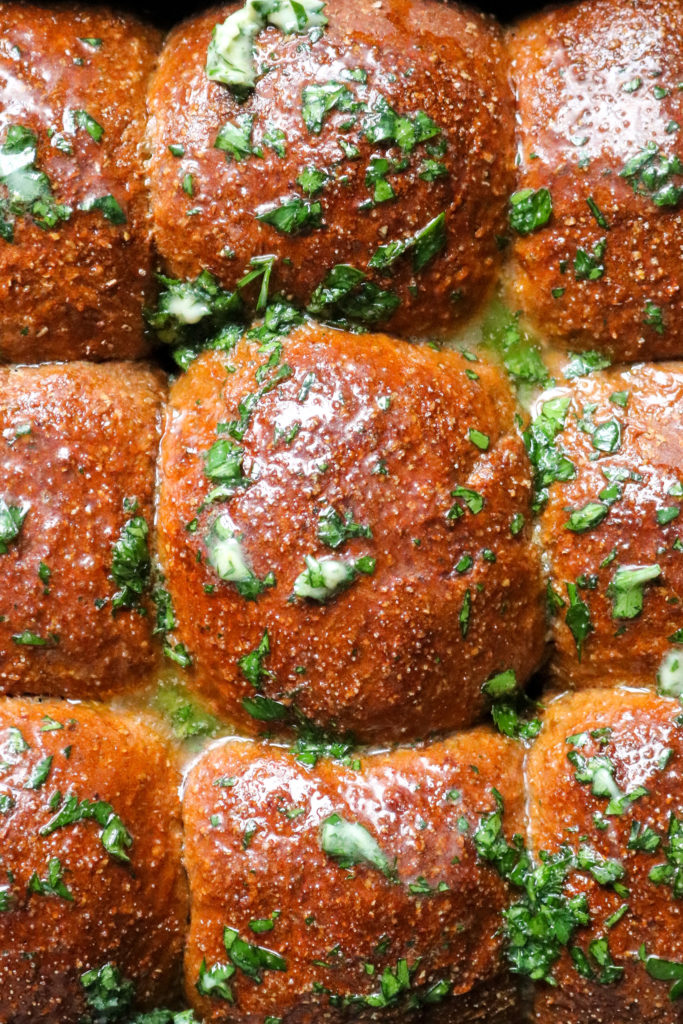 In This Post: Sweet Molasses Dinner Rolls
Justice for Beige Food!
Why is it that "beige foods" have gotten such a bad rap over the years?
Now don't get me wrong, I am ALL FOR packing as many colors as possible into a meal (in fact, I even wrote an article about it here – Phytonutrients for Health: Eat the Rainbow). And I do also agree that many less-nutritious fried foods and snacks are usually some shade of brown.
HOWEVER, there are plenty of beige foods that are packed with essential vitamins and minerals. For example, oatmeal, brown rice and wholegrain pasta just to name a few.
In fact, today's recipe contains TWO ingredients of this controversial color!
Whole wheat flour: which is made by grinding the entire wheat grain, or the "whole-grain" (get it?). This includes grinding the wheat germ and bran, which are removed when making all-purpose flour, giving whole wheat flour more fiber and B-vitamins.
Molasses: this thick, dark syrup is a byproduct of the sugar-making process. Compared to regular sugar, molasses is a good source of riboflavin and contains many other vitamins and minerals like iron in small amounts.
The moral of today's story – not all brown foods are created equal.
Now that we've got that cleared up, on to our droolworthy, tummy-rumbling, brown-as-can-be recipe.
These Sweet Molasses Dinner Rolls are the perfect side dish to any dinner. They are soft, chewy and best served slathered in herb butter, which is also super easy to whip up. Made with 100% whole wheat flour and sweetened with a bit of molasses, these dinner rolls have a boost of fiber and B-vitamins and a warm, nutty taste.
Fair warning, these may just become your favorite dinner rolls ever!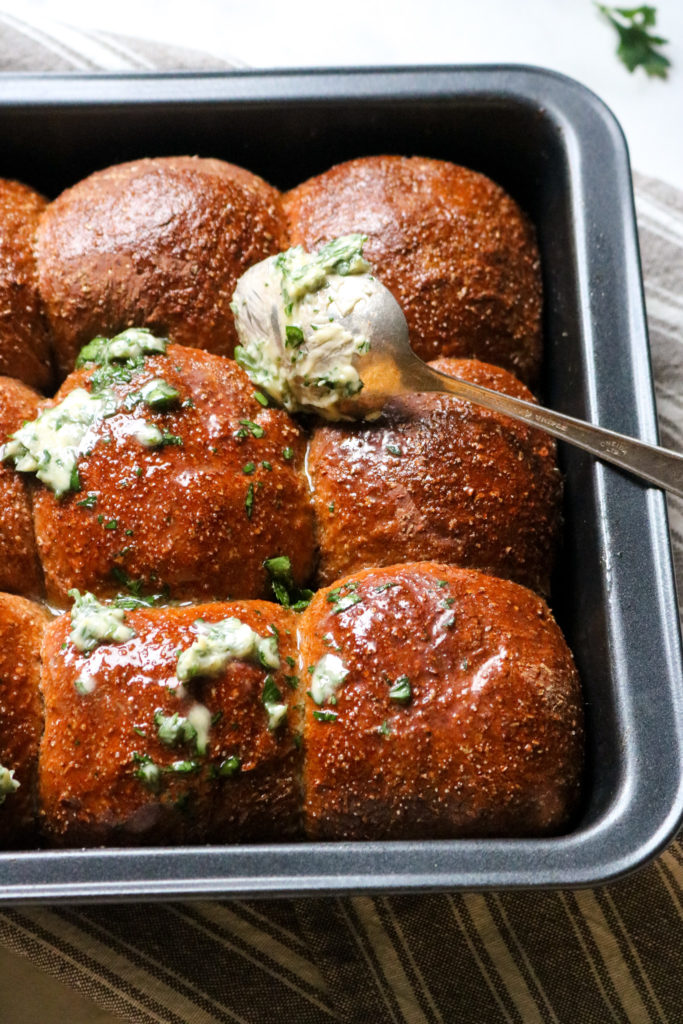 Baker's Tips For Successful Dinner Rolls
Be sure to use a fresh packet of yeast! Old expired yeast will not activate properly leaving you with dough that won't rise and small, dense rolls.
Mix yeast with warm water, not hot. If you want to be exact, 110 – 115 degrees Fahrenheit is recommended for best results. Don't forget that your yeast is alive! Hot water will kill your yeast and affect the rise of your dough.
Weigh flour with a kitchen scale to avoid too-dry or too-wet dough. This will give a more accurate amount of flour than measuring cups and therefore more consistent results. Simply place your mixing bowl on an electronic scale, press "tare" so that it reads "0" and add in your flour a little at a time.
Measure the molasses after the oil. Use the same measuring utensil for both ingredients and watch as every last drop of molasses slips out – no sticky residue left behind!
Serving & Storage Suggestions
To best enjoy these Sweet Molasses Dinner Rolls, serve them warm from the oven.
To Make Ahead: If you plan to make the rolls ahead of time, don't brush the butter on after baking. About 10 minutes before eating, place your rolls back into the oven to reheat. Then top with butter and serve.
Storing Leftovers: Wrap leftovers tightly in plastic wrap or store in an airtight container. Rolls will keep at room temperature for 2-3 days or refrigerated up to a week.
Freezing & Thawing Instructions: In general, bread tends to freeze very well tightly wrapped for up to 3 months. Allow frozen rolls to thaw overnight in the fridge, for a few hours at room temperature or reheat quickly in a warm oven or microwave.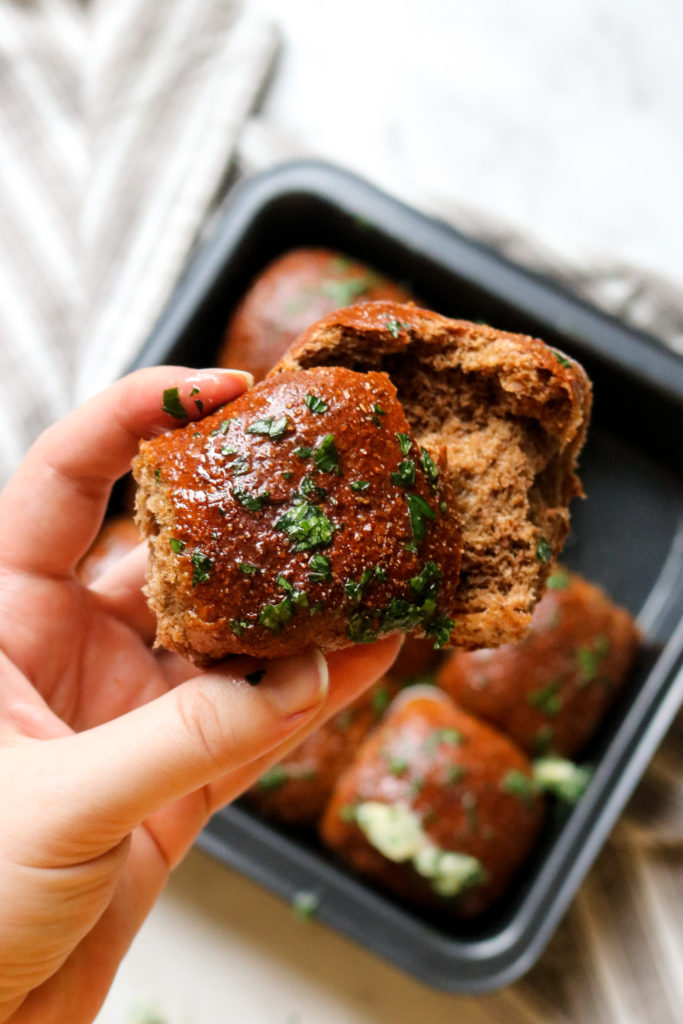 You May Also Like
---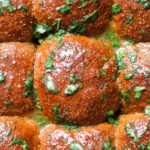 Print Recipe
Sweet Molasses Dinner Rolls (100% Whole Wheat!)
These soft and chewy Sweet Molasses Dinner Rolls are made with 100% whole wheat flour and lightly sweetened with molasses and cocoa powder. Slather with homemade herb butter and enjoy!
Ingredients
3/4

cup

warm water

1

teaspoon

sugar

2 1/4

teaspoon

dry active yeast (1 standard sachet)

2 1/2

cup (280g)

whole wheat flour

1

Tablespoon

cocoa powder

1

teaspoon

salt

1

Tablespoon

olive oil

3

Tablespoons

molasses

1

large

egg + 1 tsp water

herb butter:

2 Tbsp softened butter mixed with 2 Tbsp chopped parsley + 1/4 tsp garlic powder
Instructions
Bloom the yeast: In a glass measuring cup, whisk together the warm water, sugar and yeast. Allow to sit 10 minutes or until frothy.

Prepare the dough: In a large mixing bowl, combine the flour, cocoa powder and salt. Add the olive oil, molasses and yeast mixture and stir until a rough ball forms. Turn dough onto a clean well-floured countertop and knead, adding more flour as needed until smooth and no longer sticky (about 3-4 minutes).

1st Rise: Lightly grease a mixing bowl with oil or nonstick spray. Place the dough in the bowl and cover with a tea towel or plastic wrap. Place in a relatively warm spot and let rise for 45 minutes to 1 hour, or until the dough has doubled in size.

Grease an 8 or 9 inch square or round baking pan.

Shape the rolls: When ready, punch down the dough to release the air. Divide into nine pieces of approximately the same size. Roll each piece of dough into a smooth ball and arrange in the greased baking pan.

2nd Rise: Cover the prepared rolls and allow to rise for 1 hour.

Near the end of the second rise time, preheat the oven to 375°F. Prepare the egg wash by whisking the egg with 1 tsp of water.

Bake the rolls: Gently brush the tops of the rolls with egg wash and sprinkle with salt. Bake for 25 minutes or until nicely golden brown. Remove from the oven and brush with herb butter. Allow to cool for a few minutes before serving. Enjoy!
Notes
Storage: Cover rolls tightly and store at room temperature for 2-3 days. Leftover rolls will also freeze well up to 3 months. Reheat frozen rolls in the oven or microwave. Serving Suggestion: If preparing rolls in advance do not top with butter after baking. Re-warm baked rolls in the oven for 10 minutes and brush with butter right before serving.
---
Connect With Me
Did you make these Sweet Molasses Dinner Rolls? Have a question? Comment below and I'll be sure to get back to you. Don't forget to follow along on Instagram so you never miss a new blog post or recipe.