In a new survey, dietitians reflect on the past decade to forecast the top nutrition trends for 2022.
Another year has come and gone and while we say goodbye to 2021 (and perhaps, good riddance!), we look forward to the start of a new year.
Reflecting on the past, however, can often give us a good idea of what's to come. Particularly in the world of nutrition where consumer behaviour is heavily influenced by media and politics, recent events are often a good indicator of emerging trends.
In their 10th Annual Trends Survey, Pollock Communications and Today's Dietitian set out to discover which popular topics we might expect to hear about this year. Over 1700 registered dietitians (RDs) were asked to reflect on their past decade in the field to predict the hottest food and nutrition trends for 2022 and beyond.
So what did the experts predict? Read below to find out!
The Top Nutrition Trends of 2022
1. Pandemic Problems
As a result of stay-at-home orders and social distancing rules, it's no surprise that eating habits have changed since the start of the pandemic. According to those surveyed, 95% of RDs reported seeing an increase in snacking in those who work from home. Similarly, many are turning to familiar comfort foods to help cope with the significant impacts on mental health.
The pandemic has influenced our shopping habits too. As food stockpiling and supply chain issues raged, prices soared and decreased access to food for many vulnerable families.
On the other hand, online grocery services quickly gained popularity amidst the desire to avoid crowded stores, which remain popular to date.
Looking forward, RDs forecast that cost and comfort won't be the only factors consumers consider when making food choices. Their immune-supporting abilities will important too, as more people turn to nutrition to improve their health and avoid illness.
As seen above, this year's Top 10 Superfoods are packed with nutrients and antioxidants, which can help to keep the immune system healthy.
2. Plant Power
With Canadian plant-based food sales up 25% at the end of 2020, an increased interest in plant-based eating is evident. While this may partially be due to their known benefits for health, many others are adopting plant-based diets with the environment in mind.
In the survey, RD's predicted sustainability as one of the top values to influence the food industry in 2022.
3. Media Misinformation
Although social media platforms like Instagram and TikTok can be great for finding new recipes, they are not always the best source for reliable nutrition facts. Unfortunately, the media is full of unqualified "health and wellness influencers" who have been huge drivers in the spread of misinformation.
Be sure to think critically about the messages you see online. If an influencer:
is trying to sell a product or service
doesn't have scientific evidence to support their claims
calls themselves an "expert" but doesn't have any education to back it up
is promoting a "quick-fix" or "magic solution" that honestly sounds too good to be true…
It probably IS too good to be true!
As a rule of thumb, look for RDs or other health professionals to follow for information you can trust. There are tons out there killing the social media game!
4. Fad Diet Fallacies
Much to our dismay, the reign of diet culture continues with the return of previous years' most popular diets. Intermittent fasting, the ketogenic diet and "clean-eating" (whatever that means) will continue to trend in 2022.
If you're looking to improve your eating habits and get healthier in the new year, most RDs would encourage consumers to resist the false promise of fad diets. Instead, focus on making small realistic improvements over time for healthier results that you can maintain.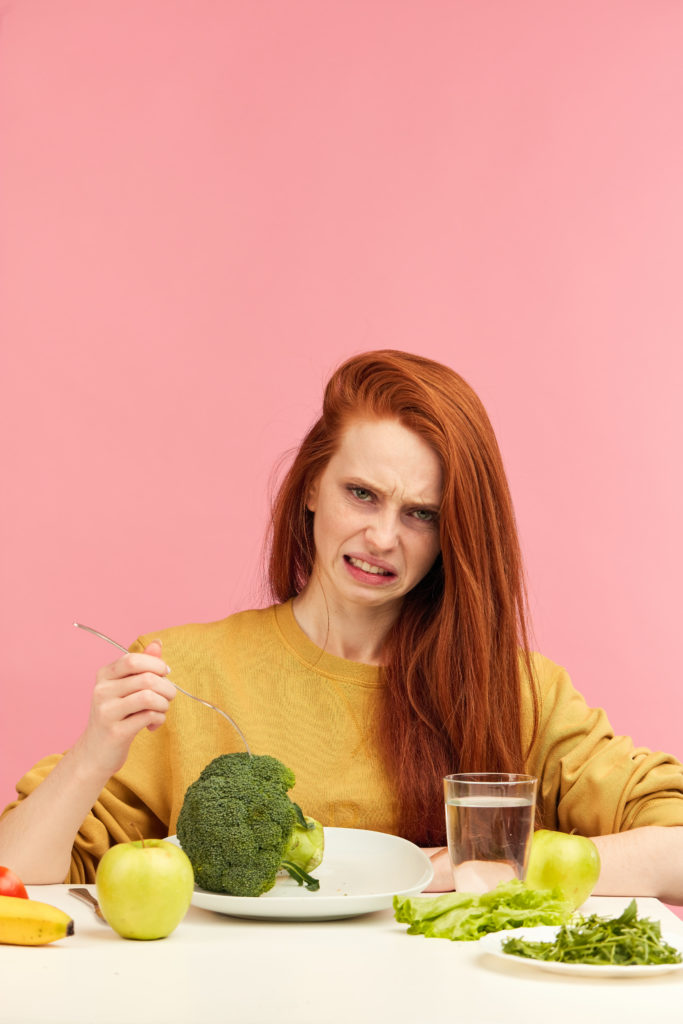 5. Back to Basics
In speaking of ways to improve your diet, the #1 recommendation from RDs remains standing year after year. Eat your vegetables!
Specifically, fill half of your plate with a good variety of vegetables and fruit to get all the nutrients you need to be healthy.
While this advice is nothing new, most of us are still consuming less than the recommended amounts per day.
To further convince you to load up your plate, a veggie-rich diet has been shown to help reduce risk of heart disease, certain cancers and can even help lower blood pressure. Further, eating more vegetables contributes to feeling more full which can help you manage your weight.
Hot Tip! (or more like cold tip). Frozen vegetables are just as nutritious as fresh as freezing helps them retain all their good-for-you nutrients. Canned veggies are another nutritious, convenient, and low-cost option! Choose lower-salt versions when you can or give them a quick rinse before use to reduce their sodium content.
So there we have it, the top nutrition trends of 2022 as predicted by dietitians!
Are there any other trends you think will be big in the new year? Let me know in the comments below! Plus, check out my other blog posts for more on the latest nutrition topics!